Email Management Software For Sales Team
Close more deals, faster, by improving your teams' first response time to inbound leads on email. For sales teams that use Outlook and Gmail to respond to inbound leads.
78% of sales go to the first company that responds
Track and improve your teams' average first reply times
Qualify and contact more leads by beating your competitors to the punch
Stop wasting marketing dollars by letting hot leads turn cold
Set real-time alerts for important emails
Setup SLA goals and scheduled reports, supercharge your sales teams' email performance today.
Email management software for sales teams that need email reporting for Outlook and Gmail
Optimize Contact Rates
Optimize your contract rates with the real-time timetoreply Ratio™ – one metric that gives you your agent's average reply times and contact rates.
Measure Email Reply Times
Know exactly how long each mailbox takes to reply to internal or external emails with our email response time software.
Monitor Individual or Group Mailboxes
Measure all new incoming emails for an individual email account or a group email address where the inquiries are sent to your sales team.
Track Sales Agent and Team Trends
View what % of emails have been responded to in under 30min, 60min, 4 hours, etc. Set your own reply time bands and improve your sales team's responsiveness to emails.
Set Response Time, and timetoreply Ratio™ Goals
Set goals, and KPIs and reward your sales team based on their activity and email reply times. View the time that the first emails and last emails were sent in a day, compare the number of emails sent inside and outside of business hours, as well as each member's average number of emails sent and received per hour.
Powerful Sales Report Filtering
Know exactly how long your sales agents take to respond to customer or lead A vs B using our powerful report filtering.
Data At Your Fingertips
Export the data you need in PDF or Excel form. Use customized APIs to integrate into your chosen reporting dashboards with ease.
Detailed Sales Ratio Reports
Detailed analytics and reporting to help rsales managers support and drive their teams' email responsiveness to inbound leads and customer emails.
View and Model Top Performer Interactions
See who your sales team members interact with most. Prioritize top leads and gauge email relationships, as well as patterns that lead to sales. Then repeat them!
OUR CUSTOMERS
Testimonials
Ontellus
"In terms of responsiveness, it's gone up from 62% to 86% as a company."
‍
‍
Lonnie Jackson

Vice President of Customer Management
Telarus
"We have seen response times in particular groups go from 7 hours to 2 hours with the timetoreply data. This is getting information to our partners quicker and streamlining the way we work."
Kyra Augustus
Director of Partner Support – Central
Swift Momentum
"Everyone has improved their reply times by at least 300-400%, giving our customers a 3-4 times faster and therefore better experience. As a business owner, that's huge!"
‍
David Sarembock
Founder and Managing Director
"timetoreply is the best for the job. It is very easy to set up and import as many Agents(users) as you want and see the data populate in a matter of minutes."
"We've been able to address staffing, general productivity, contingency planning, communication spikes and increases, and more. timetoreply has been incredibly valuable to our organization."
"Being in the service industry, we are required to meet certain SLAs for our clients. timetoreply has helped us to ensure that we are providing the best possible service and meeting our SLAs."
"It offers the privacy that individual user need/appreciate while still giving insight into communication performance for both internal and external clients."
Think you should be closing more of your inbound leads? You probably should be.
The lifespan of an online lead is 5 minutes. That is how long you have to catch a prospect in the "sweat spot" before they have either found what they were looking for elsewhere or moved on to the next task in their day. Yet sales teams the world over are taking too long to respond to inbound sales leads. With timetoreply you can change that and focus on improving your average time to first reply. By doing so and improving other important email metrics you will contact and qualify more leads and ultimately close more sales.
Improve your teams' first reply time to inbound leads

Respond to every lead without fail with real-time alerts
Set SLA goals and track your performance against them
Track individual and shared mailbox performace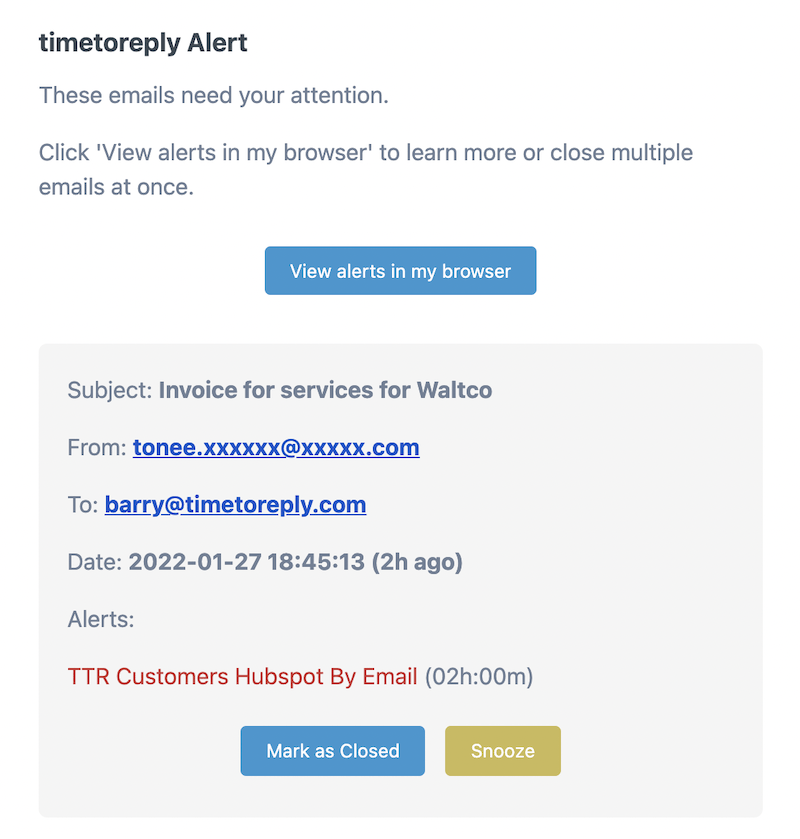 Need an easy way to track email SLA performance?
timetoreply turns your Outlook or Gmail into the ultimate email SLA tool.
Now you can mark email threads that have been handled as "closed" and get clarity on what is awaiting a reply, what has been handled and what emails were responded to within SLA and which emails breached your SLA reply time goals.
Finally, your sales teams' email performance won't be a blackhole.
Meet your SLA goals
Save time by focusing on emails that matter
Catch more leads in the "sweat spot" as and when they enquire about your product or service
Build trust and close more deals by improving your teams' response times on email
Looking for metrics for your shared mailboxes?
[email protected], [email protected], whatever your shared mailboxes are called, we can provide analytics on how you are responding to sales opportunities on the shared mailbox level and how each individual agent is performing to emails they handle from the shared mailbox.
Understand email workloads, average reply times and want requires a reply.
Integrate with Hubspot, Salesforce, Zoho and more.
Manage team member workloads
Provide better, more consistent, sales communication
Incentivise top performers
View and improve individual performance within shared mailboxes
Track "follow-ups" to ensure every lead is being consistently worked
See how Telarus used timetoreply to reduce their response times from 7 hours to 2 hours with timetoreply
15 day free trial. Instant report. No credit card required.
We've got your back.

Safe and secure

for all major

email providers.
We only track To, From, Subject line and timestamps. We never read your email, we don't have access to it.‍
Works with o365, Outlook, Gmail, MS Exchange and IMAP
ISO27001 and Google Security Certified
No software to install, everything in your browser