Email Analytics Software for Teams
Safe, Secure Email Analytics Software For Outlook, Office 365 and Gmail.
Our email analytics help companies provide best in class service over email. Improve reply times and response rates to inbound emails.
Track and improve your teams' average reply times
See which emails across your team are awaiting a reply, which have been marked as complete and which are approaching an SLA reply time goal
Measure individual and shared mailbxoes
We only analyze email header information. No access to the body or attachments of any email.
Setup SLA goals and scheduled reports, supercharge your sales teams' email performance today.
Trusted by thousands of businesses worldwide.
Do you need data on how your teams are performing on email using Outlook, Office 365 of Gmail?
timetoreply's email analytics software is one of the most advanced email analytics solutions available today. Our system tracks email volumes and email reply time data on the individual mailboxes level, shared mailbox level (including group mailboxes and distribution lists), team performance and even external supplier and customer email volumes and reply time data.
timetoreply™ was born out of a frustration around trying to track email behavior and email analytics and not being able to find a solution that truly provided the data and insights needed to monitor and incentivize staff properly.
Get insight and data into your teams' email performance
Track and report on email reply time SLA performance
Reduce customer complaints and churn by improving your response rate and reply times to customers
Use real-time alerts to prevent any email sitting for too long without a reply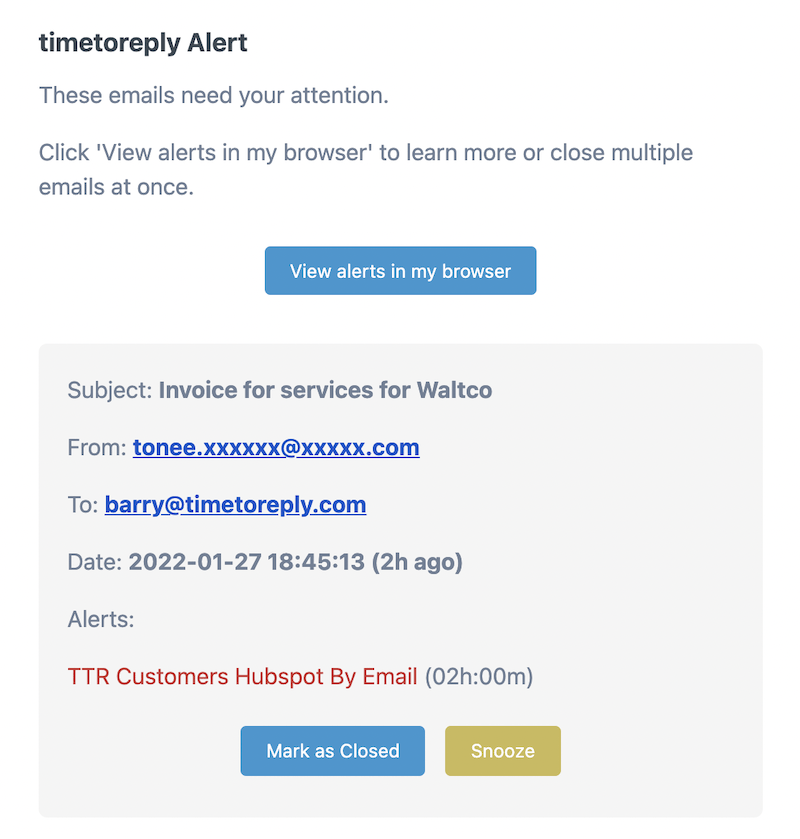 Not able to track email SLA performance easily from Outlook and Gmail?
timetoreply turns your Outlook or Gmail into the ultimate email SLA tool.
Now you can mark email threads that have been handled as "closed" and get clarity on what is awaiting a reply, what has been handled and what emails were responded to within SLA and which emails breached your SLA reply time goals.
Finally, your teams' email performance won't be a blackhole.
Meet your SLA goals
Save time by focusing on emails that matter
Improve team performance
Delight your customers
Looking for metrics for your shared mailboxes?
[email protected], [email protected], whatever your shared mailboxes are called, we can provide analytics on how you are responding to customers on the shared mailbox level and how each individual agent is performing to emails they handle from the shared mailbox.
Understand email workloads, average reply times and want requires a reply.
Your customers will love you and you'll start hearing things like "you are so responsive" and "Wow, that was quick"!
Manage team member workloads
Provide better more consistent service
Incentivise top performers
View and improve individual performance within shared mailboxes
See how Telarus used timetoreply to reduce their response times from 7 hours to 2 hours with timetoreply
Email analytics metrics our software tracks
Emails awaiting an agent response
Number of emails that have not been replied to or marked as closed by your team that are awaiting a reply.
Follow-ups
The number of times an agent or contact has sent two or more emails without receiving a reply in between.
SLA Goal
SLA goal (or service level agreement goal) is a reply time goal that you have agreed internally or with your customer. For example, we will respond to all emails within 8 business hours.
No replies from my company
Number of email conversations that have not received a single reply from your team on timetoreply.
Total emails received
The total number of emails that have been received by a mailbox for the date range selected when running the report.
SLA Breach
Number of emails that took longer than their SLA goal to receive a reply
Number of closed emails
The number of email threads that your agents have marked as "closed" either using native functionality in Outlook or Gmail or using our Outlook or Gmail add on. Email threads that have been handled or no longer require a reply can be marked as "closed".
Average first reply time
The average time it takes you to respond to the first email in a new inbound conversation
Time to close
The average time it take to mark an email thread as "closed" i.e. completed.
Within SLA
Number of emails that have been responded to within their SLA goal
Overall average reply time
The average reply time to all inbound emails (not just the first email in a new conversation).
Total emails sent
The total number of emails that have been sent by the mailbox you are reporting on.
OUR CUSTOMERS
Testimonials
Ontellus
"In terms of responsiveness, it's gone up from 62% to 86% as a company."
‍
‍
Lonnie Jackson

Vice President of Customer Management
Telarus
"We have seen response times in particular groups go from 7 hours to 2 hours with the timetoreply data. This is getting information to our partners quicker and streamlining the way we work."
Kyra Augustus
Director of Partner Support – Central
Swift Momentum
"Everyone has improved their reply times by at least 300-400%, giving our customers a 3-4 times faster and therefore better experience. As a business owner, that's huge!"
‍
David Sarembock
Founder and Managing Director
"timetoreply is the best for the job. It is very easy to set up and import as many Agents(users) as you want and see the data populate in a matter of minutes."
"We've been able to address staffing, general productivity, contingency planning, communication spikes and increases, and more. timetoreply has been incredibly valuable to our organization."
"Being in the service industry, we are required to meet certain SLAs for our clients. timetoreply has helped us to ensure that we are providing the best possible service and meeting our SLAs."
"It offers the privacy that individual user need/appreciate while still giving insight into communication performance for both internal and external clients."
Frequently asked questions
1. How do I view email analytics in Outlook and Gmail?
Popular email platforms such as Outlook and Gmail offer only the most basic email analytics. For high-performance sales and customer service teams, native email analytics simply won't cut it. 
Using a professional email analytics platform can help uncover vital data about your teams' email performance that can be used to guide improvements in how you respond to your customers. 
Timetoreply easily integrates with any leading email platform, including Outlook and Gmail. Through a quick deployment, timetoreply immediately starts producing valuable insights into your sales and customer service teams' email performance. 
Our platform is the only email analytics tool designed for Outlook and Gmail, providing an intelligent layer over your email platform of choice.
2. Which email analytics metrics should companies analyse?
Every team will have unique needs and challenges in their efforts at delivering the highest standards of customer service. However, teams can all benefit from gaining greater insight into their email performance, and should look for tools that track email analytics metrics that include:
total conversations

inbound and outbound conversations

completion ratio

average initial reply time

average overall reply time

SLA tracking

peak traffic times

which inboxes receive the most requests
Companies should also choose an email analytics tool that offers reports and data export capabilities for deeper analysis of key email-related trends. The ability to implement custom SLAs and to track how well the individuals or teams perform against custom SLAs is also key.
3. Which features to look for in an advanced email analytics platform?
You may need different types of support from your email analytics tool depending on the specific needs of your business. However, there are some common features that you should look for in your email analytics platform, including the ability to:
easily see which emails need a reply and which have already been handled

track email volumes per individual, team or shared mailbox

create real-time alerts so emails from important or priority customers are not left unanswered for too long

track shared mailboxes and individual team member stats to ensure the team members meant to respond to shared mailbox queries do so in a timely manner

optimise average email reply times to help you improve customer satisfaction and boost sales success

forego a standalone ticketing system by closing email threads directly from your inbox

download and schedule reports
4. What is the best team email analytics tool?
For sales, support and customer success teams wishing to improve their email reply times and enhance sales efforts, timetoreply is the best option. Unlike other email analytics tools, timetoreply works with any email client across every device, whether you prefer Gmail or Outlook.
Our email analytics platform connects to your teams' mailboxes – or your entire domain – to provide actionable analytics. The best customer service and sales teams use our data-driven insights to improve their email productivity, deliver superior customer service, and close more deals.
See individual and shared reply time performance, email volumes, peak hours and more, giving you visibility you need to boost your team's performance to customers, leads and key customers.
5. What makes Timetoreply a unique solution for teams and managers?
If you need a secure, easy-to-use and quick-to-deploy email analytics solution that can supercharge your sales and customer-facing support teams, then timetoreply is the best option on the market.
Timetoreply is the only email analytics tool that works with any email platform. Our user-friendly solution allows companies to add individual or team mailboxes and can track an entire company domain to give unprecedented transparency into email productivity.
With timetoreply, no important emails will slip through the cracks thanks to real-time alerts and continuous tracking of team performance against custom SLAs. 
A powerful dashboard also provides a real-time view over the total email performance of your customer-facing and sales teams.
15 day free trial. Instant report. No credit card required.
We've got your back.

Safe and secure

for all major

email providers.
We only track To, From, Subject line and timestamps. We never read your email, we don't have access to it.‍
Works with o365, Outlook, Gmail, MS Exchange and IMAP
ISO27001 and Google Security Certified
No software to install, everything in your browser