Email Software for Key Account Managers

All the reporting and data you need to improve your key account management teams' email performance without leaving Outlook or Gmail
89% of consumers are more likely to make another purchase after a positive customer service experience – Salesforce Research
Track email reply times and set goals (shared and individual mailboxes)

Scheduled reporting and email SLA tracking

Report on specific customer groups

Set real-time alerts for important emails

Mark emails as "closed" and view which replies have breached their SLA target
Trusted by thousands of businesses worldwide.
Email reporting features for Outlook and Gmail made for key account managers
View Average Email Reply Times
See how long your staff take to reply to emails. See their average First Reply Time, Overall Reply Time, and their response time trends.
Email SLA Tracking
See which emails have met their SLA goal and which have breach their SLA target. Setup scheduled reporting to see how you are performing to specific customers or groups of customers.
Set Response Time Goals
Set goals and reward staff based on their activity and email reply times. View the time that the first emails and last emails were sent in a day, compare the number of emails sent inside and outside of business hours, as well as each staff member's average number of emails sent and received per hour.
Track Email Conversations
See how many conversations each mailbox is a part of, how many conversations are waiting for a reply and how many have been completed.
Track Responsiveness
View what % of emails have been responded to in under 30min, 60min, 4 hours, etc. Set your own reply time bands and improve your staff's responsiveness to emails – a great springboard into more general productivity discussions with your staff.
Teams and Customer Groups
Group staff into teams, and create customer groups to see how different teams are performing and how your business is responding to your customers.
Schedule Reports
Schedule customized reports to be sent to you (or anyone else) on a daily, weekly or monthly basis.
Control Your Data
Use filters to include or exclude certain emails and other data from being counted in the reports, for greater accuracy and clarity.
View Message Logs
View the message logs to see the time it took for each reply in a conversation (your reply times and your customers' reply times).
OUR CUSTOMERS
Testimonials
Ontellus
"In terms of responsiveness, it's gone up from 62% to 86% as a company."
‍
‍
Lonnie Jackson

Vice President of Customer Management
Telarus
"We have seen response times in particular groups go from 7 hours to 2 hours with the timetoreply data. This is getting information to our partners quicker and streamlining the way we work."
Kyra Augustus
Director of Partner Support – Central
Swift Momentum
"Everyone has improved their reply times by at least 300-400%, giving our customers a 3-4 times faster and therefore better experience. As a business owner, that's huge!"
‍
David Sarembock
Founder and Managing Director
"timetoreply is the best for the job. It is very easy to set up and import as many Agents(users) as you want and see the data populate in a matter of minutes."
"We've been able to address staffing, general productivity, contingency planning, communication spikes and increases, and more. timetoreply has been incredibly valuable to our organization."
"Being in the service industry, we are required to meet certain SLAs for our clients. timetoreply has helped us to ensure that we are providing the best possible service and meeting our SLAs."
"It offers the privacy that individual user need/appreciate while still giving insight into communication performance for both internal and external clients."
Worried about losing key accounts due to poor email service?
With our real-time alerts, you can create an alert to fire when there has been no response to a key customer after X amount of time.
The alert can be sent to a manager, the agent who needs to respond or anyone else you choose.
You can also link up with your CRM to automatically create a task for the agent so that they know to respond to the email.
Improve reply times

Never miss an important email again
Reduce customer churn
Increase NPS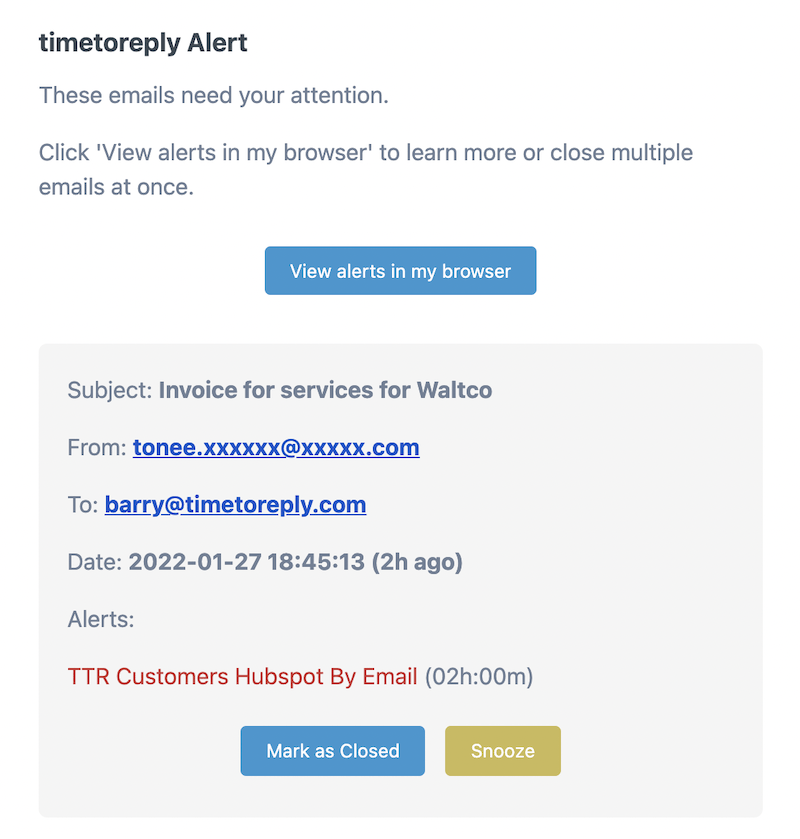 Need an easy way to track email SLA performance with key customers?
timetoreply turns your Outlook or Gmail into the ultimate email SLA analytics and reporting tool.
Now you can mark email threads that have been handled as "closed" and get clarity on what is awaiting a reply, what has been handled and what emails were responded to within SLA and which emails breached your SLA reply time goals.
Finally, your teams' email performance won't be a blackhole.
Meet your SLA goals
Save time by focusing on emails that matter
Improve team performance
Delight your customers
Handling key account email communications via a shared mailbox?
[email protected], [email protected], whatever your shared mailboxes are called, we can provide analytics on how you are responding to customers on the shared mailbox level and how each individual agent is performing to emails they handle from the shared mailbox.
Understand email workloads, average reply times and want requires a reply.
Avoid customer complaints about not receiving a timely response to their email queries by seeing reply time goals and tracking them for your shared mailboxes.
Manage team member workloads
Provide better, more consistent service
Incentivise top performers who respond to shared mailbox enquiries 
Set first reply time and overall reply time goals and track your team's performance against those goals
See how Telarus used timetoreply to reduce their response times from 7 hours to 2 hours with timetoreply
15 day free trial. Instant report. No credit card required.
We've got your back.

Safe and secure

for all major

email providers.
We only track To, From, Subject line and timestamps. We never read your email, we don't have access to it.‍
Works with o365, Outlook, Gmail, MS Exchange and IMAP
ISO27001 and Google Security Certified
No software to install, everything in your browser