Shared Mailbox Reporting Software For Teams and Managers
The only shared mailbox reporting solution for all service providers (Outlook, o365, and Gmail)
Everyone has improved their reply times by at least 300-400%, giving our customers a 3-4 times faster and therefore better experience. David Sarembock, Founder and Managing Director, SwiftMomentum
View email analytics for your shared mailboxes
See your email volumes and average reply times per shared mailbox and compare them against one another
Drill down to see how each team member is contributing to the shared mailbox
Understand who is working on what and manage workloads across your shared mailbox team members
Set reply time goals and see which emails have met their reply time goal and which breached the goal
Trusted by thousands of businesses worldwide.
Need an easy way to get reporting for your shared mailboxes?
timetoreply sits on top of your existing email client and provides email analytics for your shared mailboxes.
Finally your shared mailboxes won't be a blackhole. You'll be able to see stats for your shared mailbox as a whole and drill down into each team member to see who is handling which email threads, who has capacity to take on more and view each team members first and overall reply times for the shared mailbox.
Get stats for your shared mailbox(es)
Get stats for each of your team who contribute to your shared mailbox(es)
Set goals and track your your teams performance against the goals
Delight your customers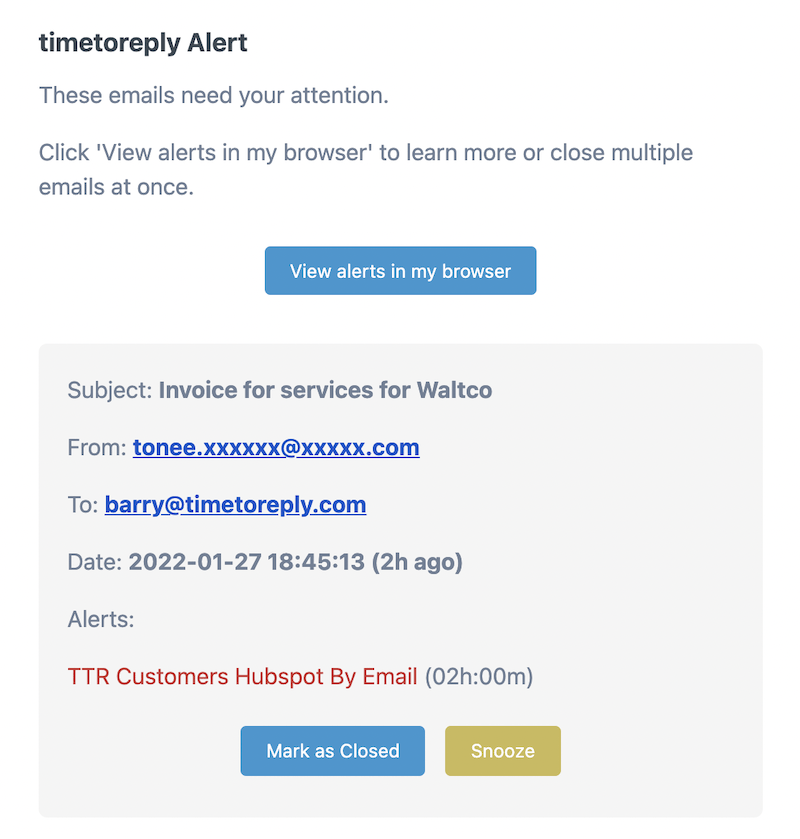 Want to ensure no emails sit for too long without a reply?
With our real-time alerts, you can create an alert to fire when there has been no response to a key customer after X amount of time.
The alert can be sent to a manager, the agent who needs to respond or anyone else you choose.
You can also link up with your CRM to automatically create a task for the agent so that they know to respond to the email.
Improve reply times
Never miss an important email again
Reduce customer churn
Increase NPS
Track email reply time SLAs for your shared mailboxes
Do you have SLA agreements in place with your customers where you commit to certain response times via email and need a way of tracking it? Our SLA reporting tracks average first and overall reply times while taking business hours, timezones and holidays into account.
View what percentage of email replies are within SLA and what percentage breach your SLA goals. Drill down to see the actual email replies that breached their response time goal and see which emails require a response and which have been marked as closed.
We can even display which emails are approaching an SLA reply time goal directly in your Outlook or Gmail mail client to optimise performance in real-time (optional)
Your customers will love you and you'll start hearing things like "you are so responsive" and "Wow, that was quick"!
Set and track email reply time SLAs
Schedule reports with manager and/or team members. Some customers choose to share these reports with their customers.
Incentivise top performers
View and improve individual performance within shared mailboxes
Shared Mailbox Reporting Software Features
Measure email reply times
Know exactly how long each mailbox takes to reply to internal or external emails with our email response time software.
Real-time alerts
Setup real-time alerts so that you know if an important email hasn't received a reply after X amount of time.
Mark emails as "Closed"
Use our native add-ins for o365, outlook.com or Gmail to mark emails that have been dealt with as "closed". View your average time-to-close metric and work at improving this over time.
Track your service level agreements
Set goals based on your SLA agreements and use our tool to ensure you are not in breach of your agreed email reply time thresholds.
Monitor individual or group mailboxes
Measure all incoming and outgoing emails for an individual email account or a group email address where customer queries are received.
Detailed email performance reports
Detailed analytics and reporting to help client services managers support and drive their teams' email responsiveness to new and existing customer emails. Schedule these reports to be sent to you daily, weekly or monthly.
Agent leaderboards
Create healthy competition by sharing the comparative leaderboard reports with your team. Set goals and reward the best performing agents. Watch your average reply times to customers improve and your qualified leads increase.
Track client service agent and team trends
View what % of emails have been responded to in under 30min, 60min, 4 hours, etc. Set your own reply time bands and improve your customer team's responsiveness to emails. Track performance over a 12 month period.
API and CRM integrations
Integrate timetoreply with your favourite CRM or business intelligence reporting tool. Sync data and analyze the impact of improving your timetoreply metrics.
OUR CUSTOMERS
Testimonials
Ontellus
"In terms of responsiveness, it's gone up from 62% to 86% as a company."
‍
‍
Lonnie Jackson

Vice President of Customer Management
Telarus
"We have seen response times in particular groups go from 7 hours to 2 hours with the timetoreply data. This is getting information to our partners quicker and streamlining the way we work."
Kyra Augustus
Director of Partner Support – Central
Swift Momentum
"Everyone has improved their reply times by at least 300-400%, giving our customers a 3-4 times faster and therefore better experience. As a business owner, that's huge!"
‍
David Sarembock
Founder and Managing Director
"timetoreply is the best for the job. It is very easy to set up and import as many Agents(users) as you want and see the data populate in a matter of minutes."
"We've been able to address staffing, general productivity, contingency planning, communication spikes and increases, and more. timetoreply has been incredibly valuable to our organization."
"Being in the service industry, we are required to meet certain SLAs for our clients. timetoreply has helped us to ensure that we are providing the best possible service and meeting our SLAs."
"It offers the privacy that individual user need/appreciate while still giving insight into communication performance for both internal and external clients."
We've got your back.

Safe and secure

for all major

email providers.
We only track To, From, Subject line and timestamps. We never read your email, we don't have access to it.‍
Works with o365, Outlook, Gmail, MS Exchange and IMAP
ISO27001 and Google Security Certified
No software to install, everything in your browser